Dispensing Solution for Electronics Manufacturers
I. Dispensing Solution for electronics manufacturing
With precise deposit control, Nordson EFD's solutions improve yields and reduce costs in electronics and electro-mechanical manufacturing.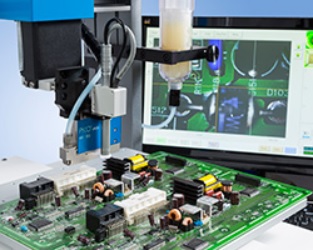 Nordson help electronics manufacturers increase profitability with fluid dispensing solutions engineered for the most demanding production environments.
In benchtop assembly processes, Nordson dispensers improve productivity by placing fluid more accurately and consistently. Nordson valve systems increase yields, while reducing material waste in automated and semi-automated operations used in electronics manufacturing, including mobile devices and wearables.
Nordson dispensing tips, syringe barrels, and adapter assemblies prevent static buildup from damaging fragile electronic components – minimizing costly rejects.
Nordson EFD's innovative line of automated dispensing systems includes industry-leading robots that increase output speed and batch quality, while offering incredibly simple and intuitive programming and operation.
Along with the rapid development of the mobile device industry, the EFD Nordson is not out of trend. Nordson's precision fluid dispensing systems deliver the accuracy, consistency and speed required to meet consumer demand for thinner, lighter, more sophisticated Internet-connected devices at a lower price.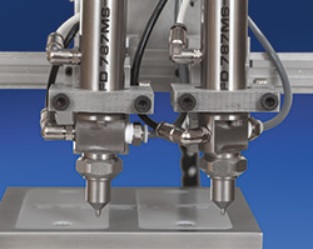 Each component used in manufacturing smart phones, tablets, wearables, and other devices has a different set of requirements for fluid handling, placement, and application. Nordson EFD offers a full line of solutions that meet those requirements.
From display and printed circuit board (PCB) to camera module and microspeaker applications, EFD's benchtop and automated dispensing solutions, coating systems, high-speed jetting solutions, and automated dispensing systems deliver greater yields with less waste, rejects, and rework.
II. Related Products
1. High efficiency dispensing valves
2. High precision dispensing machine
3. Dispensing Robot
4. Dispensing tips, cartridge and handy dispenser
And there are many other products from the EFD Nordson, please refer to Nordson Homepage. All products are distributed nationwide by Centech, please contact our Hotline/Zalo for order!