Dispensing Solution for Food Processing and Packaging
I. Solutions from Nordson EFD for food processing and packaging
Nordson EFD solutions optimize food packaging and processing manufacturing with a range of precision filling, automated dispensing, and spray valve systems.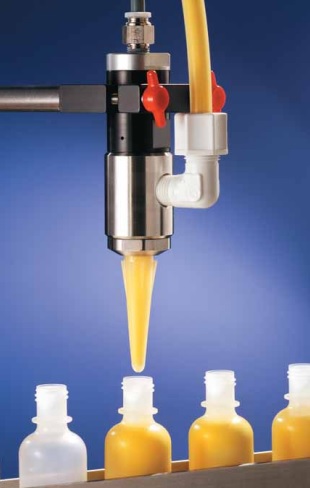 Nordson's aseptic valves incorporate FDA-approved wetted materials, which are both Clean-in-Place (CIP) and Sterilize-in-Place (SIP). Filling systems provide accurate shot sizes, uniform fill volumes, and drip-free cutoff, all of which reduce waste, spillage, cleanup costs, and product rejects.
Coating solutions from Nordson EFD provide even, consistent coverage, controlled application, and timed or steady operation. Lubrication solutions keep food from sticking to blades and conveyor belts.
Nordson EFD's automated distribution and accuracy spraying systems contribute to the development and enhance quality of food processing and packaging in the entire food industry in general.
II. Related products
1. High efficiency dispensing valves
And there are many other products from the EFD Nordson, please refer to Nordson Homepage. All products are distributed nationwide by Centech, please contact our Hotline/Zalo for order!