B&PLUS Easy Radio Frequency Identification (RFID) / 8bit
Simply orient the system. No controller is needed for 8-bit data parallel output. No special program or ladder required. Low-cost and easy to install.
Free shipping
Credit Card
Features
Complex configuration and ladder program are not required.
8 bit parallel output by just facing.
Simply writing by Reader/writer.
Comply with ISO 15693 standard.
Line-up of Data carrier for various
intended use.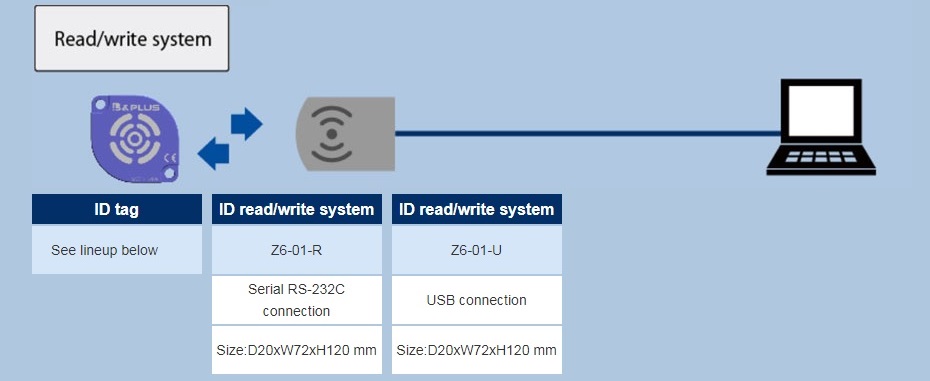 ID read/Write System


Tags Line-up
ISO15693 standard:13.56MHz


Image
Size
30 x 30 x 6 mm
φ9.5 x 27 mm
φ26 x 3.4 mm
φ16 x 0.9 mm
φ28 x 3.4 mm
φ50 x 8.3 mm
Material
PBT
Zirconia ceramic
Almina ceramic
Glass fiber cloth
Glass fiber cloth
PA6
Type
Z11-AA04-2K
Z1-EA02-128
Z1-EC02-128
Z1-FA01-128
Z1-FB01-128
Z1-B011-128
Memory Type
2Kbyte/FRAM
112byte/EEPROM
112byte/EEPROM
112byte/EEPROM
112byte/EEPROM
112byte/EEPROM
Operation distance
Max: 34 mm
Max: 7 mm
Max: 42 mm
Max: 35 mm
Max: 60 mm
Max: 54 mm
Spec sheet
ID Antenna Line-up
Image
Type
Z5-EA05N/P-PU__
Z5-AA01N/P-PU__

Z5-AA03N/P-PU__

Z5-A010-CN
Z5-CA01N/P-PU__

Z5-A010-CN




Z5-DA01N/P-PU__

Output type
Pararell 5-bit output

Pararell 8-bit output

Pararell 8-bit output

Pararell 8-bit output

Pararell 10-bit output
Size
D10xW25xH50 mm
M30xH74.5 mm
D25xW45xH45 mm
D30xW80xH180 mm
D25xW55xH55 mm

D30xW80xH180 mm




D25xW55xH55 mm

Spec sheet
Download
Download
Download
Download
Download