Overview
The product side flanges comply with national, German, Russian, American, British and Japanese standards and other domestic and international standards for multiple pressures, easy connection and wide adaptability, which can reduce the type of purchase and stock.

The thickness of valve body meets the requirement of GB 26640, and the thickness and pressure strength are guaranteed.

The valve body is made of qt450-10 material and has 3 grades of spheroidization rate, with stronger mechanical properties, tensile strength of 450Mpa and extension rate of more than 10%. Compared with cast iron body, the tensile strength of the same thickness is twice that of cast iron body, and the applicable working pressure is higher.

The seat is made of imported rubber material with 50% adhesive content.The valve sealing is reliable, the opening and closing moment is stable, the valve seat has a long service life, and the opening and closing times can reach more than 10000.

The seats are all wide side seats, with wider sealing cover width, easier sealing at the end of the valve and more reliable sealing.Wide edge seat facilitates valve installation, wide contact surface with flange boss on pipe, reliable sealing performance. Installation accuracy requirements are lower than narrow side seats.Seat axial with concave table, with o-ring, can realize seat axial secondary seal.

The valve shaft and valve body are equipped with 4 oil-free bearings and 3 o-type seals. The valve shaft supports more vigorously and the axial seal is more reliable.

Ultrasonic cleaning shall be carried out before packing of each valve, so as to prevent contamination and particulate impurities from remaining in the valve body, ensure cleanliness of the valve and prevent contamination of the water body of the pipeline by the valve itself.

The body is sprayed with epoxy resin plastic powder from Aksu, a world-faous brand, which can be deposited thicker and have stronger adhesion after melt curing.

The bolt is made of 304 material, with stronger anti-rust ability.

The handle is made of ductile iron, which is more resistant to rust than the stamping handle. Spring and pin materials are 304, strong corrosion resistance, more durable. Grip with a humanized semicircular structure, no corners feel good.

The pin with the pin butterfly valve adopts the quenched and tempered pin, which is of high strength and wear-resistant, and the connection is safe and reliable.

The non-pin valve shaft adopts the anti-blow-out structure, and the upper end of the valve shaft adopts the double-clip spring structure, which can not only compensate the assembly error, but also prevent the valve shaft from blowing out.
Application
Applicable medium:Clear water and neutral liquid

Suitable temperature:- 20 ~ 120 ℃

Application field:Municipal construction, water conservancy projects, water supply and drainage, water treatment, etc
Structure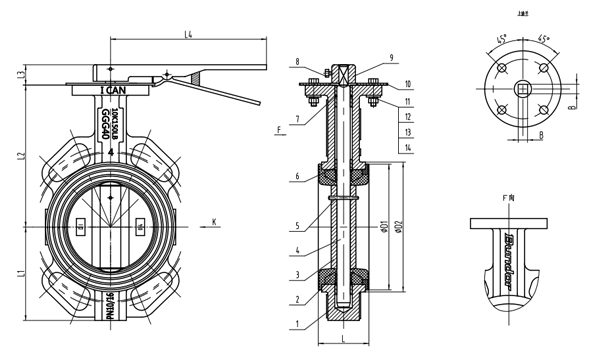 | | | | | | | |
| --- | --- | --- | --- | --- | --- | --- |
| Parts | 1 | 2 | 3 | 4 | 5 | 6 |
| Name | Body | Seat | Disc | Stem | O-rings | Handle |
| Material | DI | EPDM | DI | SS304 | EPDM/NBR | Aluminum |
Specifications
Size Range: 2''-8''/DN50-DN200
Pressure: 10K/150LB
Body Materials: Ductile iron
Seat Materials: ([EPDM]/NBR) (50% adhesive content)
Disc Materials: Ductile Iron,CF8,CF8M
Stem Materials: 45#/420/316/304stainless steel
| | | | | | | | | | | |
| --- | --- | --- | --- | --- | --- | --- | --- | --- | --- | --- |
| NPS | DN | L | D1 | D2 | L1 | L2 | L3 | L4 | B | Top Flange |
| 2″ | DN50 | 48 | 86 | 92.3 | 75 | 129 | 24 | 240 | 9 | F05 |
| 2.5″ | DN65 | 52 | 101 | 107 | 82 | 136 | 24 | 240 | 9 | F05 |
| 3″ | DN80 | 53 | 116 | 122 | 99 | 153 | 24 | 240 | 9 | F05 |
| 4″ | DN100 | 58 | 148 | 153 | 110 | 167 | 24 | 270 | 11 | F07 |
| 5″ | DN125 | 62 | 174 | 179 | 125 | 193 | 24 | 320 | 14 | F07 |
| 6″ | DN150 | 62 | 204 | 208.4 | 145 | 209 | 24 | 320 | 14 | F07 |
| 8″ | DN200 | 65 | 252 | 262.3 | 170 | 251 | 30 | 380 | 17 | F10 |