Bundor Flange Type Globe Valve
The product is suitable for liquid, gas medium pipeline and equipment, and is used to connect and cut off the medium in the pipeline.
Free shipping
Credit Card
Overview

The sealing surface has the advantages of good sealing performance, easy operation, no damage to the sealing surface, long service life and no water hammer phenomenon. Can be installed in any position of the pipeline, but the flow direction by pointing to the installation.
Clockwise turn of hand wheel means the closing of valve, otherwise it means opening, do not allow assistant lever to the hand wheel.
Valve body, Bonnet: Grey iron, Ductile iron

Stem:Carbon steel, Stainless steel

Disc: Grey iron, Ductile iron

Applicable Temperature: ≤200℃

Applicable Medium: water, Oil, Gas and corrosive medium

Main Material: Cast iron, brass, carbon, chrome-plated
Structure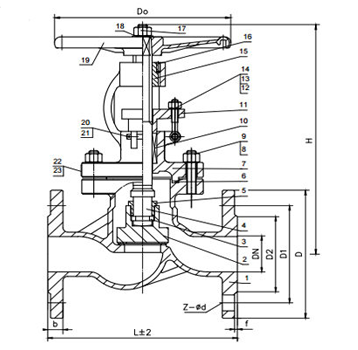 Specifications
| | |
| --- | --- |
| PN(Mpa) | 1.6 |
| Applicable Temperature | ≤200℃ |
| Applicable Medium | Water, Oil, Gas and corrosive medium |
| Main Material | Cast iron, brass, carbon chrome-plated) |
| | | | | | | |
| --- | --- | --- | --- | --- | --- | --- |
| DN(mm) | L | D | D1 | H | D0 | Weight(kg) |
| 15 | 130 | 95 | 65 | 105-125 | 73 | 4.25 |
| 20 | 150 | 105 | 75 | 105-125 | 73 | 4.7 |
| 25 | 160 | 115 | 85 | 115-135 | 95 | 5.85 |
| 32 | 180 | 135 | 100 | 120-140 | 95 | 9.2 |
| 40 | 200 | 145 | 110 | 140-165 | 125 | 11.35 |
| 50 | 230 | 160 | 125 | 160-185 | 125 | 16.6 |
| 65 | 290 | 180 | 145 | 196-220 | 170 | 20.3 |
| 80 | 310 | 195 | 160 | 285-330 | 217 | 30 |
| 100 | 350 | 215 | 180 | 305-360 | 260 | 40 |
| 125 | 400 | 245 | 210 | 367-396 | 280 | 56 |
| 150 | 480 | 280 | 240 | 431-465 | 320 | 80 |
| 200 | 600 | 335 | 295 | 513-562 | 400 | 122 |
| 250 | 650 | 405 | 355 | 577-635 | 400 | 179 |