Overview
1.Low fluid resistance
The fluid resistance is small, and the resistance coefficient is equal to the pipe length.

2. Simple structure
Simple structure, small size, light weight.

3. Good sealing
Tight and reliable, the sealing material of ball valve is widely used in plastic, sealing and vacuum system.

4. Convenient operation
Easy to operate, open and close quickly, from full open to full close as long as 90 degrees rotation, easy to control distance.

5. Convenient maintenance
Convenient maintenance, simple structure of ball valve, seal ring is generally mobile, easy to remove and replace.

6. Do not cause erosion of valve sealing surface
The sealing surface of the ball and seat is isolated from the media when fully open or closed.

7. Wide application
Wide range of applications, from small to a few millimeters, to several meters, from high vacuum to high pressure can be applied.
Application
Applicable medium:Water, steam, oil.

Suitable temperature:Below 200 degrees Celsius

Application field: Municipal construction, water treatment, electricity, petroleum, water supply and drainage, water conservancy projects.
Structure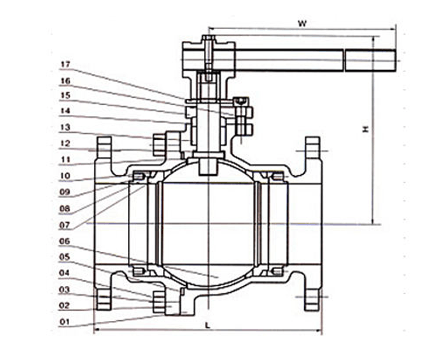 Specifications
Size Range: 1/2''-8''/DN15-20

Pressure: 1.6-10Mp

Body Materials: WC

Seat Materials: PTF

Stem Materials: 201stainless steel

Cover materials: WCB
SIZE
PN16
PN25
PN40
PN63
DN
NPS
L
ΦA
ΦB
ΦC
ΦA
ΦB
ΦC
ΦA
ΦB
ΦC
ΦA
ΦB
ΦC
250
10''
730
405
355
320
425
370
335
450
385
345
470
400
345
300
12''
850
460
410
378
485
430
395
515
450
410
530
460
410
350
14''
980
520
470
438
555
490
450
580
510
465
600
525
465
400
16''
1100
580
525
490
620
550
505
660
585
535
670
585
535
450
18''
1200
640
585
550
670
600
555
685
610
560
No such specification