Xebec Diamond Ceramic Stones
Apply to hardness above HRc57 (below HRc57 is still suitable).
Free shipping
Credit Card
XEBEC Ceramic Stone Diamond has diamond embedded in layers, enable it to be used to the end without losing its sharpness.
This tool can be used manually.
A stick holder is available as an optional tool.
Both the stick and the rod types can be used to polish with the tip or the sides of the tools.
Applying lubricant improves polishing efficiency.
You can easily shape the tip using an electrodeposited diamond file.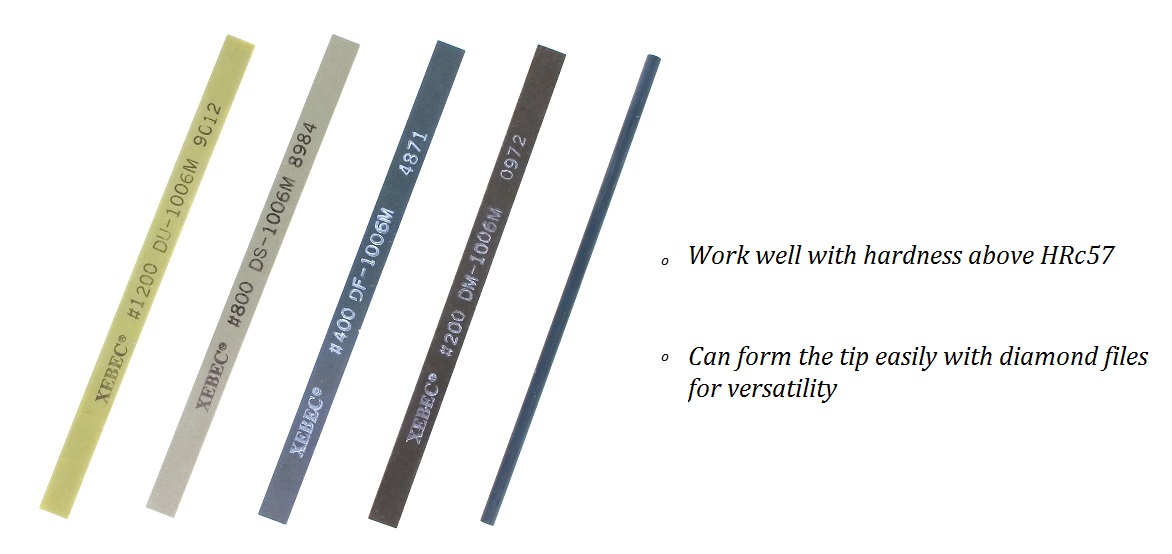 Dimensions
Product code
T×W×L(mm)
Moss green #1200*
1×4 ×100
DU-1004M
1×6×100
DU-1006M
1×10×100
DU-1010M

Gray #800*

1×4 ×100
DS-1004M
1×6×100
DS-1006M
1×10×100
DS-1010M

BlueGreen #400*

1×4 ×100
DF-1004M
1×6×100
DF-1006M
1×10×100
DF-1010M

Black #200*

1×4 ×100
DM-1004M
1×6×100
DM-1006M
1×10×100
DM-1010M