Yokogawa DM7560 Digital Multimeter 6.5 Digit
A flexible 6.5-digit digital multimeter with high-accuracy, high-speed data logging (up to 30k S/s) with deep 100k reading memory and built-in statistical analysis.
Free shipping
Credit Card
Features
Full-color,high-resolution display with flexible display formats
High-speed data logging with up to 30 k points per second
High-capacity internal memory up to 100 k points
Trend / histogram analysis available both in real-time and offline
Multiple PC interface options (USB, Ethernet, GP-IB, RS-232) enable automation
Applications
Monitoring battery current consumption
Sensor testing
Production testing
R&D / service
Voltage reference testing
Functions
Flexible Display Formats
A large 4.3-inch high-resolution display provides comprehensive data observation using a flexible combination of primary and secondary display areas.
Display combination examples
Trend chart + Statistics
The DMM7560 can show different types of visualizations on the display. In this case, the top displays a time-domain trend plot and the lower region displays statistics of this data.
Numerical value + Frequency + Analog meter
Users can display the input signal voltage and frequency side-by-side with numeric values and indicators.
High-speed data logging
Maximum 30 k S/s data logging rate
In bulk mode, data can be logged to the internal memory with high sample rates of up to 30 k S/s. Data logged to the memory can be copied to a USB memory device and analyzed on the PC.
* When DCV, DCI, 2 WΩ, 4 WΩ functions.
Setting the DM7560 to 30 kS/sec enables users to see the details of a 10 ms pulse width, on a 2 Vpp measurement.
High capacity memory
An internal memory of 100 k points enables long-term, high-resolution data logging even for high sample rates. Continuous measurement of over 27 hours is possible with a sample rate of 1 S/s.
Available logging time at each sampling rate
Sampling Rate (S/s)
1
1k
30k
Logging time (h:m:s)
27:46:40
0:01:40
0:00:03
Triggered data logging
Trigger events such as the measured LEVEL, LIMIT or EXTERNAL TRIGGER can stop logging. Users can specify the amount of data to store after an event occurs.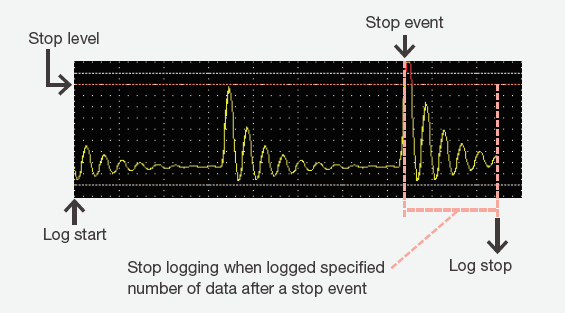 SIGNAL LEVEL events can stop data logging.
PC-based Analysis
Users can transfer readings to a PC file for more detailed analysis.
Offline data analysis in the DM7560
Yield rate measurement
By setting upper and lower limit values as the cursor position on the histogram display, user can display the number of data, ratio to whole data (%) and yield rate.
Yield rate and other calculations are available using cursor controls on the histogram display.
Time trend analysis
In the trend chart, statistic data in a selected time range can be calculated.
Statistical data such as the MAX/MIN/AVG of a cursor-specified range is calculated automatically.
In-depth analyses
Users can easily zoom to see a magnified part of the trend chart or display the zoomed region as a histogram.
Productivity Improvement
Judgment (GO/NO-GO) result analysis
Both the histogram and trend chart can display LIMIT judgment results. The number of captured NO-GO results is displayed in the histogram display, and the timing when NO-GO results were captured is clearly displayed in the trend chart.
Display in large fonts
Easily seen from a distance.
Connection Interface
Front Panel
Rear Panel
Accesories